Welcome to

barn house

physiotherapy

Physiotherapy delivers a vast array of treatment techniques which help to restore and improve body movements and functions.

Psychological health is enhanced by physical wellbeing and at barn house physiotherapy the treatment is as individual as you are.
Welcome to barn house physiotherapy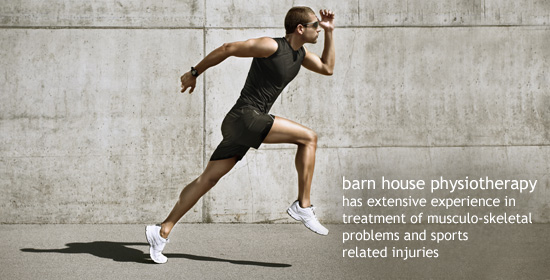 Movement matters
Jacqueline Knox set up barn house physiotherapy clinic in order to rehabilitate patients back to normal movement and full function. With a background in normal movement and elite sport Jacqueline and her team want to emphasise that normal movement matters.

At barn house physiotherapy we:
Assess what the problem is
Identify any underlying muscle weakness or faulty movement pattern that may have contributed to the problem
Treat the problem
Address the underlying weakness and change the faulty movement pattern
Teach you a programme of exercises that are individually tailored to your injury and body type
Give you a maintenance programme to prevent re-occurrence
Educate you in health and fitness to improve your lifestyle tailored to your individual needs
We have a pilates studio for matwork and machine pilates to work on 'core control' for strength and conditioning
Click here to meet the rest of our team.



bh products
bh oils are designed for the clinic by aromatherapist Lady Lesley Addison using only natural ingredients
more >

---
bh blog - The Green Gym
It is Chelsea Flower Show this week and the theme is how plants can make you feel healthier and improve people's lives through design
more >
---
How barn house can help you
Sports injuries and other conditions such as:
ARTHRITIS
NECK RELATED HEADACHE
BACK PAIN
SCIATICA
SHOULDER PAIN
LOCKED JOINTS
BACK PAIN DURING PREGNANCY
WHIPLASH INJURIES
NECK PAIN
PAIN & STIFFNESS POST FRACTURE
PAIN & STIFFNESS POST ORTHOPAEDIC SURGERY
SOME TYPES OF INCONTINENCE
can be treated by physiotherapy...
more >